Frames By Conrad is a Picture Framing Studio based in West Sussex, which is committed to producing handmade bespoke picture frames on site focusing on quality and style.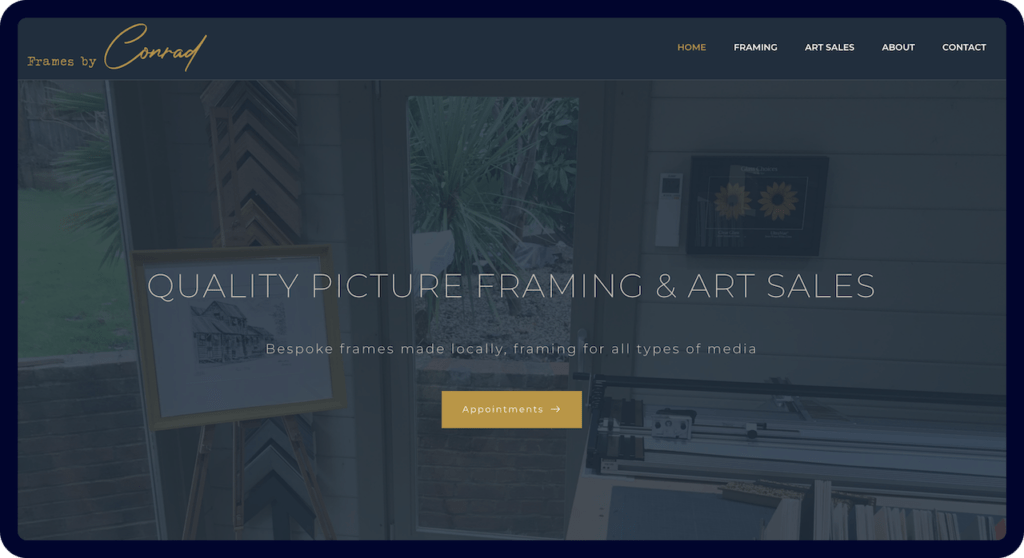 Introduction:
At Presto Fox, we had the pleasure of collaborating with Conrad, the owner of Frames By Conrad, a picture framing studio based in West Sussex. Conrad approached us seeking our expertise in showcasing his artwork and selling his handmade bespoke picture frames. In this case study, we will delve into how our comprehensive website design, branding concepts, and social media marketing campaign played a vital role in transforming Frames By Conrad into a thriving business.
Client Background:
Frames By Conrad came highly recommended as a reputable picture framing studio in West Sussex.
Conrad's commitment to producing high-quality, handmade bespoke picture frames on-site had earned him a loyal local following. Conrad's main objective was to establish an online presence and create a platform to display and sell his work from his home studio located in Crawley Down, West Sussex.
Challenges and Objectives:
When Conrad approached Presto Fox, he faced several challenges. He needed a visually appealing website that would effectively represent the unique nature of his handmade frames and communicate the quality and style he valued. Additionally, Conrad sought assistance with logo design, branding concepts, and social media marketing strategies to raise awareness and generate interest in his business.
Our Solutions:
Logo and Branding Concepts:
Our team at Presto Fox worked closely with Conrad to fully grasp his vision and aesthetic preferences. We developed a visually captivating logo that captured the essence of Frames By Conrad—craftsmanship, elegance, and individuality. The logo design showcased Conrad's attention to detail and his commitment to quality, instantly captivating potential customers.
Website Design and Development:
To create a standout online presence for Frames By Conrad, we designed and developed a user-friendly and visually stunning website. Our team incorporated a sleek and modern design that showcased Conrad's work through high-resolution images and intuitive navigation. We ensured that the site was optimised for a seamless user experience across devices, allowing potential customers to easily explore and purchase Conrad's picture frames.

E-Commerce Integration:
To facilitate online sales, we seamlessly integrated an e-commerce functionality within the website. This feature allowed Conrad to showcase his frames and offer customers a smooth purchasing experience, including secure payment gateways and streamlined order processing. With inventory management tools in place, Conrad could efficiently manage his stock and fulfil customer orders.
Social Media Marketing Campaign:
Understanding the power of social media, we devised a comprehensive marketing strategy to raise awareness of Frames By Conrad. We identified target audiences and crafted engaging content that showcased Conrad's craftsmanship and the unique attributes of his frames. Through strategic advertising campaigns, collaborations with social media influencers, and active participation in relevant communities, we successfully generated interest and drove traffic to Conrad's website.
Results and Impact:
Our collaboration with Frames By Conrad yielded significant results. The transformational website design, combined with effective branding concepts and a well-executed social media marketing campaign, enabled Conrad to establish a robust online presence and drive sales. Conrad witnessed a notable increase in website traffic, with a steady stream of online orders being fulfilled. The enhanced visibility and credibility provided by our solutions positioned Frames By Conrad as a reputable and sought-after picture framing studio.
Our Conclusion:
At Presto Fox, we take pride in our comprehensive approach to website design, branding, and social media marketing. Our collaboration with Frames By Conrad showcases the transformative power of effective web design and marketing strategies. By creating an aesthetically pleasing website, designing a captivating logo, integrating e-commerce functionality, and executing a targeted social media marketing campaign, we helped Conrad attract customers and es